Hiking in the summer in the UK can be unpredictable, especially if you are climbing mountains over 500 meters. A change in wind speed can mean a sudden drop in temperature and you can get caught out especially when descending. A gilet is a great item to stuff in your day pack that will take the chill off when needed but will not weigh you down. In this review we look at men's gilets that are affordable but will also do the job of keeping you warm when needed. We have concentrated on synthetic gilets in this review mainly as they are more versatile should there be a spot of summer rain.
Berghaus Kyberg Gilet Review
Insulation: Polartec Fleece
Weight: 280g (Men's Large)
Features: Zipped Pockets
Price: £70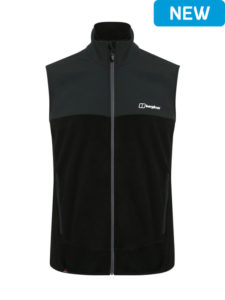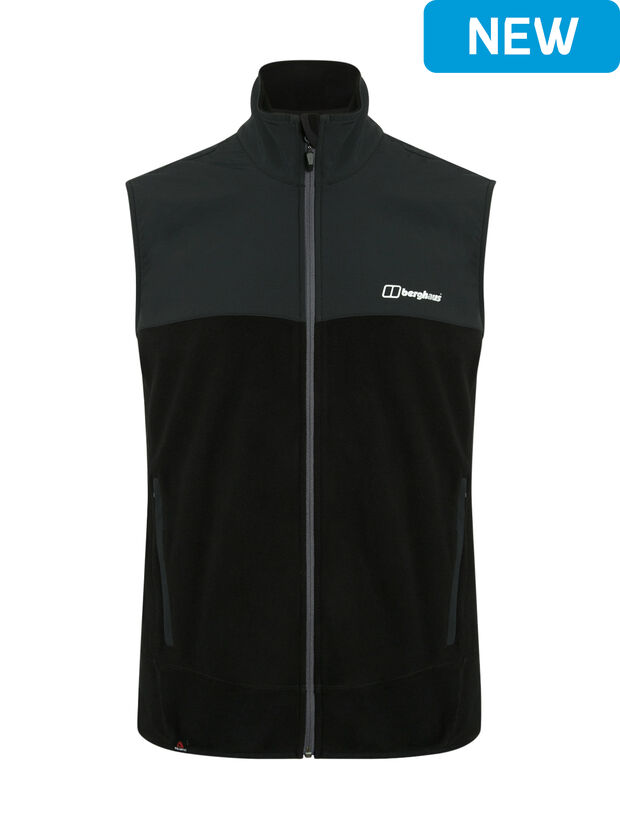 The Berghaus Kyberg gilet is perfect for UK hill trekking. The Polartec Fleece is well known for its insulation and light weight but also it lasts well. This fabric has been around for a good few years now and always gets good reviews. Because of its slim fit it can also be used as a base layer unlike some bulkier down gilets. Berghaus say that the gilet is made from over 50% recycled fabric, is PFC free and is Bluesign approved which is nice to know for those are environmentally conscious. At £70 this seems like a good buy for those who want a hi-spec gilet with low environmental footprint.
Rab Cirrus Flex Gilet Review
Insulation: 3M featherless insulation
Weight: 250g
Features: Stuff Sack Pocket
Price: £100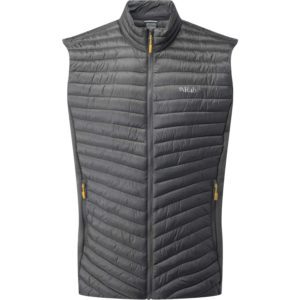 The Cirrus Vest is designed more as a mid-layer due to its slim fit, but this makes it perfect for summer hiking. The Cirrus featherless insulation performs well even when damp but it is quite new to the market so it does not come with the same pedigree as the Polartec Fleece. The gilet also has zipped pockets but also has a great feature in that the left pocket also acts as a stuff sack meaning it packs down really small. We also liked the chin guard which mean you can zip up tight and lock warmth in without the zip rubbing on your chin. Any bearded men will know what it is like to get your beard trapped in a zip. Not a job for the mountain rescue but not a good look.
Mountain Equipment Frontier Gilet Review
Insulation: Exolite 210 stretch double weave softshell
Weight: 270g
Features: Chest Pocket & Hem Cords
Price: £80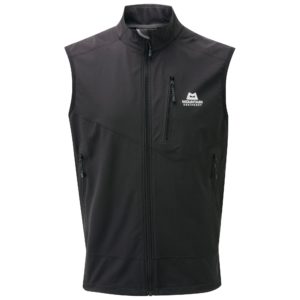 The Mountain Equipment Frontier Vest uses a double weave soft shell fabric which makes the gilet much more flexible than other gilets. This can be useful if you like to scramble to the peak on the mountain and are likely to brush against rocks. It also has a 3rd pocket on the chest which can be especially useful if you are using this as a mid-layer under a waterproof jacket. Hem cords also allows you to lock in warmth and can also stop the gilet from rising up your body which can be an issue if you are climber as well. There is not much in the way of insulation on this one as it relies on the softshell fabric.
Conclusion
The winner for us is the Berghaus Kyberg Gilet. The price is very competitive for what is a well-made Polartec fleece gilet. Having said that all the gilets we tested were comparable. We would say that the Mountain Equipment Frontier Vest is more suited to summer climbing than hill walking as the insulation is not in the same league as the other two. The Rab Cirrus Flex is very comfy and more stylish than the others, but its higher price meant it takes second place.