Multi Activity Weekend in Wales
This wet and wild multi activity weekend in wilds of North Wales will give you a real taste of adventure. You will get the chance to experience white water rafting, rock climbing with abseiling, canyoning and kayaking.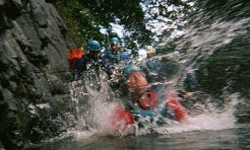 Battle the raging water in a seven person self-bailing raft. With your instructor at the helm it's up to you to paddle your way down the narrow channel avoiding the rocks. Lean in and hold on as you plunge through the torrent of spray and noise.
Climbing and abseiling back down the spectacular limestone cliffs is an unmissable experience. Perched high above beautiful valleys you will be able to take in the magnificent sights and sounds around you. Abseiling is the second fastest way to get down a cliff! Going over the top is the hardest part, your legs may shake but once you have experienced the thrill, and proved to yourself that you can do it, you will be coming back for more.

Gorge walking or Canyonning is a surprisingly satisfying activity. Navigate your way through a narrow, deep cleft carved in the side of a mountain by wading or swimming through the stream that carved it. Climb through raging torrents, secured by your instructor's rope, jump into deep pools and abseil down waterfalls, its all part of the fun.

Learn how to turn and paddle correctly under the tuition of your instructor then head out as part of a group. You should soon be able to paddle in a straight line, reverse, turn around, stop and get out in a hurry as well as playing some games and getting a bit wet.

Prices from From £220.00 Click here to find out more >>>

The action takes place in Llangollen, famous for its aquaduct, canal boats, and of course its fantastic landscape. A selection of local independent 3 and 4 star guest houses and 2 -4 star hotels, plus a good quality pub bunk house, much enjoyed by stag groups, can be pre- arranged when booking.
On Saturday morning you get to meet your instructors then after a briefing it's out onto the water for your first activity, kayaking. It's not as easy as it looks but your instructor will soon make sure you have all the basic paddling, turning and safety skills needed to get around in calm waters. Enjoy a break for lunch back in one of Llangollen's many pubs or restaurants then spend the afternoon getting to grips with rock and water on an exhilarating gorge walk. The easy start to warm you up is soon a memory as the gorge deepens and the water rages. Luckily your armour of wetsuit, helmet and buoyancy aid are in place to protect you from all that the gorge will throw at you. Spend the evening boasting about the days adventures and nursing aching limbs along with the odd bruise !
Sunday's activities begin with white water rafting on the river Dee. All rafts are guided by qualified instructors who provide an interactive safety brief and training before you get on the water. An hour for lunch gives you time to catch your breath and refuel before heading out to experience the thrill of climbing a rockface and then abseiling back down again. Local crags and quarries are used providing stunning views. The emphasis is on having fun and getting a buzz in safety. After a debrief its time to say farewell to the stunning scenery and new friends; pack up your things and head for home taking with you memories of the fantastic experiences you have had on this spectacular weekend adventure.
Availability: The weekend itself runs from Saturday morning through to Sunday evening around 1730. You will be divided into groups for the activities, depending on total numbers taking part. You will have two full days of activities on the Saturday and Sunday. Morning sessions run from 0900 to 1230 and afternoon sessions run from 1330 to 1730 approximately. Available every weekend of the year (except Christmas). Group size is a maximum of nine students to one instructor. The activities are all offered subject to availability and weather. All equipment and instruction is included in the price and all instructors are fully qualified to lead and teach.
Requirements: The breaks offered are very flexible and you don't need to be super-fit to enjoy this weekend, but it does involve lots of physical activities so expect some aching limbs.
Anyone under the age of 18 must be accompanied by a parent or legal guardian. Minimum age 12, must be able to swim 50m. Wetsuits, buoyancy aids, helmets, waterproof tops will be provided. Wear swimsuit and a thermal top under the wetsuit. You must use the buoyancy aid, cagoule and helmet provided by the centre. Bring a change of clothes, and a towel and don't forget to take your watch off. You must wear closed-toed shoes for the white water rafting. If you want to bring your own wet suit it must have full legs. Transport to and from the activities is not included.
Spectators and Facilities: Not suitable for spectators. Our residential option includes accommodation in a two star bed and breakfast hotel. Food is not included, but can be purchased or arranged locally as meal breaks are taken in Llangollen which has many reasonably priced pubs, cafes and restaurants.
Random Selection of Gear from our Shop - Click images for more information