Multi Activity Weekend in Cornwall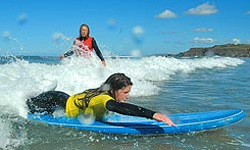 Opting for this multi-activity weekend in Cornwall means you can choose four different experiences from a wide range of activities during your weekend of outdoor activities:
Surfing: The centre prides itself on having some of the most enthusiastic surf coaches around, as well as a choice of four beaches to surf from. An ideal environment for beginners and intermediates.
Windsurfing: Teaching for beginners takes place on a spacious uncrowded inland lake – much more forgiving than the sea.
Kayaking and Canadian Canoeing: Make the most of the sea and inland water with beginner sessions and expeditions in the canoes on offer. A fabulous way to see the unspoilt coastline and wildlife.
Climbing and Abseiling: A great outdoor sport to learn, that will have you feeling truly exhilarated when you reach the top of your first climb. Abseiling may seem pretty scary at first but once you get the hang of it you'll be itching to do your first sea cliff abseil.
Coastal Discovery/Walking/Traversing and Coasteering: These activities all concentrate around the sea and cliffs and are designed to get you into the heart of the spectacular environment around you. The experiences can be as challenging or relaxing as you like.
Prices from £179.00 Click here for more information >>>
Experience Summary: This weekend multi-activity break in Cornwall includes two nights' accommodation (Friday and Saturday night). You will usually take part in two activities each day. Accommodation is in the cliff top house and there are a variety of rooms available with bunk rooms, singles, twins and doubles. There are no supplements for single bookings. Some rooms are en-suite, or sharing toilets and showers and many benefit from sea views so you can wake up to the crashing of the ocean waves. All rooms are bright, heated, well-ventilated and have tea/coffee making facilities. The centre is cleaned every day.
The activities you choose are all offered subject to availability and weather. All equipment and instruction is included in the price and all instructors are fully qualified to lead and teach. Local transport to and from the activities is also included. This experience is offered for one to 15 guests. The centre can accommodate up to 30 guests in total, making it an ideal choice for birthday, hen/stag weekends. For groups of 16 to 30, please contact our sales team and we will arrange a quote for you.
Availability: Multi-activity weekends run from Easter through to November. The weekend itself runs from Friday evening through to Sunday evening around 17:30. You will be divided into groups for the activities, depending on total numbers at the centre. You will have two full days of activities on the Saturday and Sunday. Morning sessions run from 09:30 to 12:30 and afternoon sessions run from 13:00 to 17:30.
Requirements: The breaks offered are very flexible and you don't need to be super-fit or a good swimmer to enjoy this weekend. Anyone under the age of 18 must be accompanied by a parent or legal guardian. Minimum age for activities varies. Assuming average height, the minimum ages are: surfing nine years, Canadian canoeing nine years, windsurfing 12 years, kayaking 12 years, climbing and abseiling 12 years, coasteering 16 years old.
Spectators and Facilities: The weekend package includes all meals from Saturday breakfast through to Sunday lunch. There is an on site Boardriders bar and evening entertainment can be arranged – from BBQ's and cliff top fire to live music and beach games. The centre is only a 5 minute walk from the local pub/club and Bude town/seaside resort is only 4 miles away. If you prefer just to chill out in the evening you will love the cliff top benches, with spectacular sunset views across the ocean – if you are lucky you may catch sight of the dolphins.
Random Selection of Gear from our Shop - Click images for more information